Well that didn't take long! Actor Johnny Wactor is the new daytime sensation and that's saying a lot, what with his General Hospital characters moniker – with a name like Brando he better be good. So far, so great.
Many people saw your tweet this summer, with your tribute to your father when he passed away. It was very moving.
Johnny: Thank you Jim. It was unexpected and heart breaking like I didn't imagine. It definitely brought forth a new perspective on life and cultivating the relationships with the one's I love and I wanted to share that with my people.
What's the best advice did your dad ever give you?
Johnny: The best advice my dad ever gave was simple – 'quit complaining'. Complaining gets you nowhere if you don't follow it up with a solution. It leads to victimhood, blaming, negativity and staying in the same state of your complaints. Sometimes he didn't take his own advice though and sometimes I don't either!
Otherwise, how have you held up during Covid-19?
Johnny: With the exception of my father's passing, I've handled the coronavirus and quarantine as well as I could be. It's easy to allow the state of the world to have full dictation on my emotional state, but I've chosen to limit my social media exposure and to do my own research geared towards discovering factual statistics. It's been a delicate situation to navigate as I have many friends and family that have opposing views on how to live during the pandemic. I've been doing my best to live life safely with concern for not only my own health but the health of others as there are most assuredly more at-risk people to death caused by corona virus complications than myself. At the same time, I utilized the time at home to read more about pressing matters in our country, implementing empathy and sympathy, and have continued to grow in my desire to have understanding for all. I've also utilized the time away from work to double down on my exercises which range from calisthenics to climbing boulders in the mountains – don't worry, I'm maintaining a safe distance from people.
Strange for you, I'm sure. Just as your General Hospital role was taking off – everything came to a halt! Were you concerned with the timing, concerned there wouldn't be a job to come back to?
Johnny: I was absolutely concerned about my new role on GH being short lived. With the pandemic halting all productions I was uncertain when or IF we'd return filming. So grateful that we have returned and I'm able to make a living again. I know that a lot of people are not able to do so and had I not been on this show is have a lot more worry about how to make ends meet. Supremely fortunate and grateful.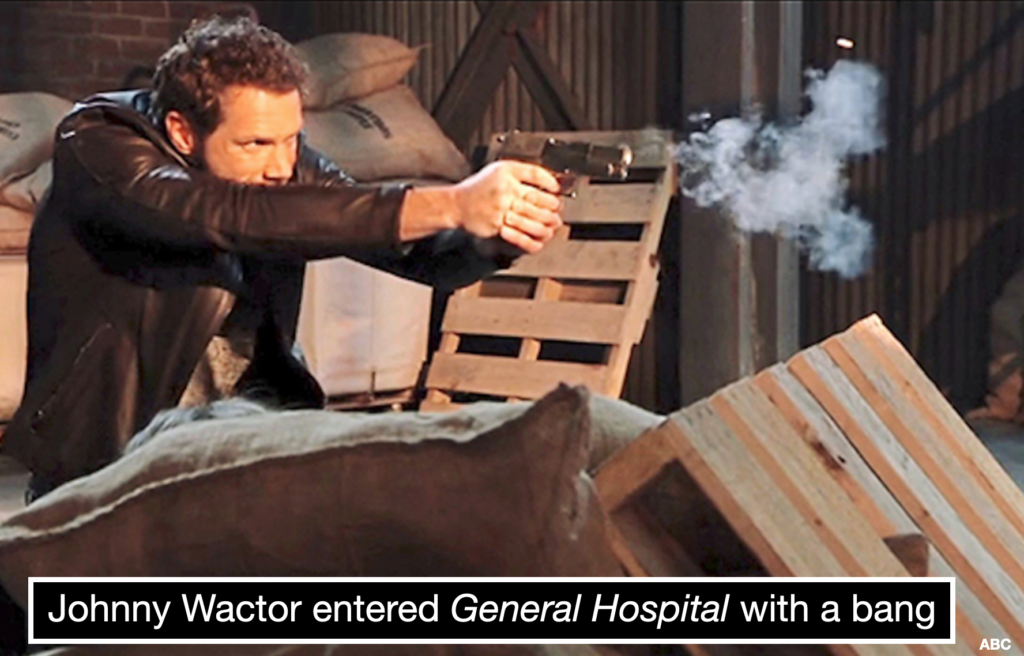 How was it walking back onto the GH set?
Johnny: It was exciting and relieving to get back on set. So proud to be working with a production who takes the new standards of precaution very seriously and happy I get to do what I love. I missed GH!
What was your last fun night out, before it all came crashing down?
Johnny: My last fun night out was actually bartending at my previous job. I don't go out really so my 'going out' was usually behind the bar slinging drinks with my crew at Harriet's Rooftop.
What is your favorite vacation spot?
Johnny: What's a vacation?
Any place that you look forward to visiting?
Johnny: I am going to stay with some friends in Montana this fall too. I've always wanted to hiking and climbing there and I'm finally getting the opportunity to do so.
What was your first childhood brawl about?
Johnny: I cut a kid in line. He didn't like that so we duked it out in second grade.
Who has been your hero?
Johnny: My parents. They raised three young men and made lots of sacrifices.
What is the greatest indulgence you allow yourself?
Johnny: Coffee and cookies. I love nitro cold brew coffee with nothing added to it and a big ass chocolate chip cookie.
What's the last song you caught yourself singing… in the shower?
Johnny: Where Did You Sleep Last Night by Lead Belly
What makes you laugh?
Johnny: My family and friends make me laugh a lot. So does my girlfriend. I've got funny people around me. I make myself laugh a lot too. I say bunch of silly stuff.
You get one phone call – who you going to call?
Johnny: Mom. She brought me into this world!
Where will you keep all your Emmys?
Johnny: In the house I don't have yet.
How much space do you think you'll need in the future?
Johnny: Nothing crazy. I want a big yard with some trees and a place to build things like a 45 degree climbing wall.
What movie star would you love to star opposite of right now – what kind of movie would it be?
Johnny: It would be a psychological thriller. McConoughey, Zendaya, Tom Hardy, Daniel Kaluuya, Shia and Leo. Christopher Nolan directs.
How do you think/hope your friends describe you to their friends who haven't met you?
Johnny: I think they'd say Johnny's crazy as hell. I hope they say Johnny's great peoples.
Are you a great cook? What is your specialty?
Johnny: I wouldn't say I'm a 'great' cook by any stretch but I'm pretty good. I got my cooking talents from Wendy who helped raise me.
Oh, so, who is Wendy?
Johnny: Mrs. Wendy was my brothers' and mine baby sitter growing up. She would take care of us when both parents were at work. She taught us how to cook, took us horseback riding, hunting – and whipped out ass if we got out of line.
Is she still around – not to whip you?
Johnny: She sure is!
So, you're having a dinner party – and there is only room for you and five celebrities for you to invite, who is on that list?
Johnny: I'd say Jordan Peele, Matthew McConaughey, Zendaya, Adam Ondra, Alex Honnold, and Kerri Strug.
And you have to do the cooking, so what's on the menu?
Johnny: Oh man. I'd have oven roast mushrooms, roast asparagus, roast carrots, brown rice, big ole salad, grilled salmon and ribeye for my omnivorous guests.