Say hello to Hollywood's newest power couple. Most people have grown up with the charming John Stamos on our television screen – starting with General Hospital and following up with several other series, including the iconic television mainstay Full House. Caitlin McHugh is an actress with, perhaps, even more acting credits than John – including a Law & Order: Special Victims Unit episode, where the two met!
After collaborating on a now-two year old son, Billy, the philanthropic couple have now turned their attention to a new project. St.amos Jewelry is their cleverly named bracelet line – with 100% of the net proceeds from the bracelets will be donated to Childhelp.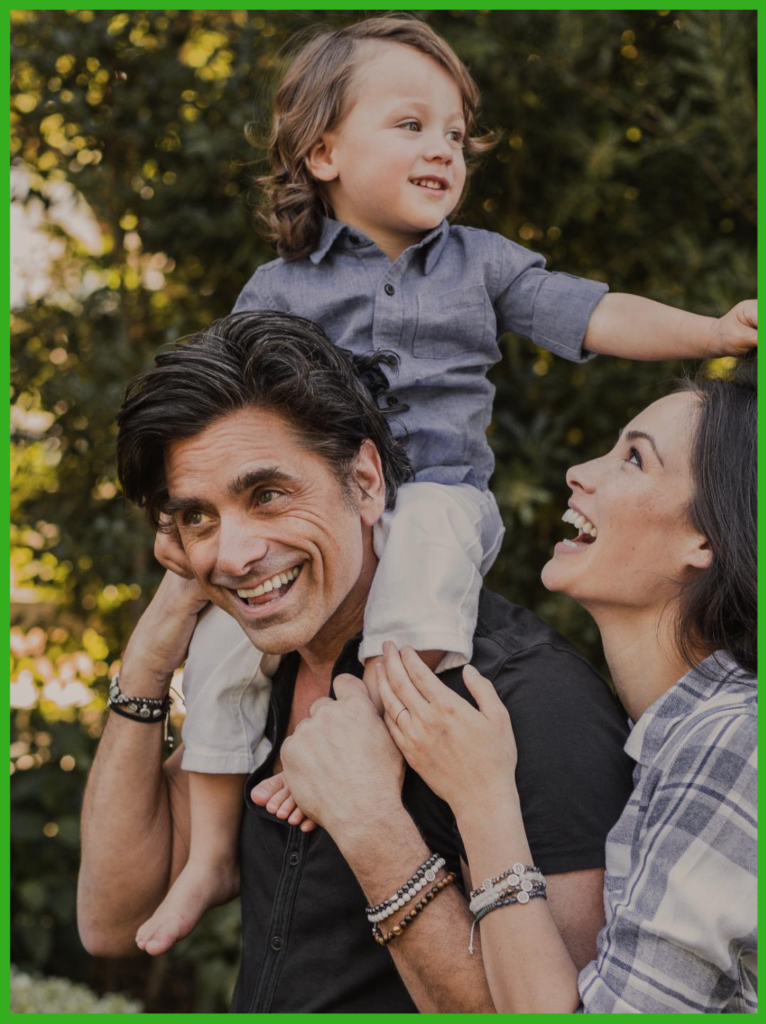 "The whole intention of our line is to let people know that they are loved," John told HollywoodHI, in an exclusive interview with Caitlin at his side. "It's a jewelry line John has worn for years," adds Caitlin, with a smile.
"It was started by Amy Dhambra who was so inspired by jewelry makers in Medjugorje that she hired them to make designs she could sell in the United States," says Caitlin. And while making its way from Bosnia might sound like a pricey endeavor, Caitlin shuts down that thought, adding that the jewelry "is affordable and they make great gifts, with beautiful messages."
"John's cousin, who first introduced him to My Saint My Hero, came up with the idea of us partnering up," says Caitlin. "I'm grateful she did. It's been a beautiful partnership bringing attention to our favorite charity, ChildHelp, with our message of sharing the love. John has been involved with ChildHelp for over thirty years and it's been a big part of our relationship together. They do so much to help abused children all around the country and we've seen what they do firsthand. We do everything we can to support and bring awareness to what they do." For more on Childhelp https://www.childhelp.org
"So many people in this world, especially now, are lonely and feel they don't exist," says John. The company motto "'Wear one, share one' is all about that," he explains. "If you know someone who just needs to be acknowledged in some sort of way – give them a bracelet." But, it's a the bigger picture that is of interest to John and Caitlin. "Whether you give someone a St.Amos bracelet or simply tell someone they are loved, the world will be a better place," John emphasizes.
"It's so easy to convey that they mean something to you and this world. I don't know, if everyone felt a little more acknowledged maybe we'd have less violence and less anger in this world," says the song and dance man from several Broadway productions. "I know I'm simplifying, but it's a start. Whether you give someone a St.Amos bracelet – or simply tell someone they are loved – the world will be a better place!"
Caitlin certainly has her hands full, with a father/son team under her roof, but she loves her roles as "mother, wife, and charity jewelry line peddler," she says.
Caitlin has brought a lot into John's life, he says, and not only the love of their lives, Billy. "They've made me realize that all the things that I thought were so important – career, image, social media status, they are not.," John reflects. "Family is what's going to make you happy in the long run, and I'm loving every minute of it!"
Check out – order – your very own St.Amos bracelet https://mysaintmyhero.com