One of daytime television's most recognizable faces as Bobbie Spencer on General Hospital, these days Jacklyn Zeman also brings her talents to the multi-platform The Bay (Amazon Prime and PopTV), which is celebrating it's 10th season this year. Add to that her starring role in the digital series Misguided and as traveling co-host of Make This Place Your Home, this New Jersey born mother of two beautiful daughters keeps very busy- being a grandmother!
How have you found peace during COVID-19?
Jacklyn: I'm a Pisces and I am happy when I am near the water. Any water reenergizes and is fine for me. A lake, the ocean, a river, a backyard pond or stream, the bay…
Well, since you bring up The Bay – well done – you've been front and center on the multi Emmy winning series for ten years now – that must be fun?
Jacklyn: I still get excited about our storylines and my scenes on The Bay. Our Bay family is filled with very special and talented people. And yes, it's still tons of fun.
Not counting your own, who is your favorite character on The Bay?
Jacklyn: Everyone is special. I couldn't choose just one. But I have to say that I really enjoy working and playing with Brittany Underwood who plays my daughter Riley – she brings a positive, sunny, happy energy to her character and to the scenes.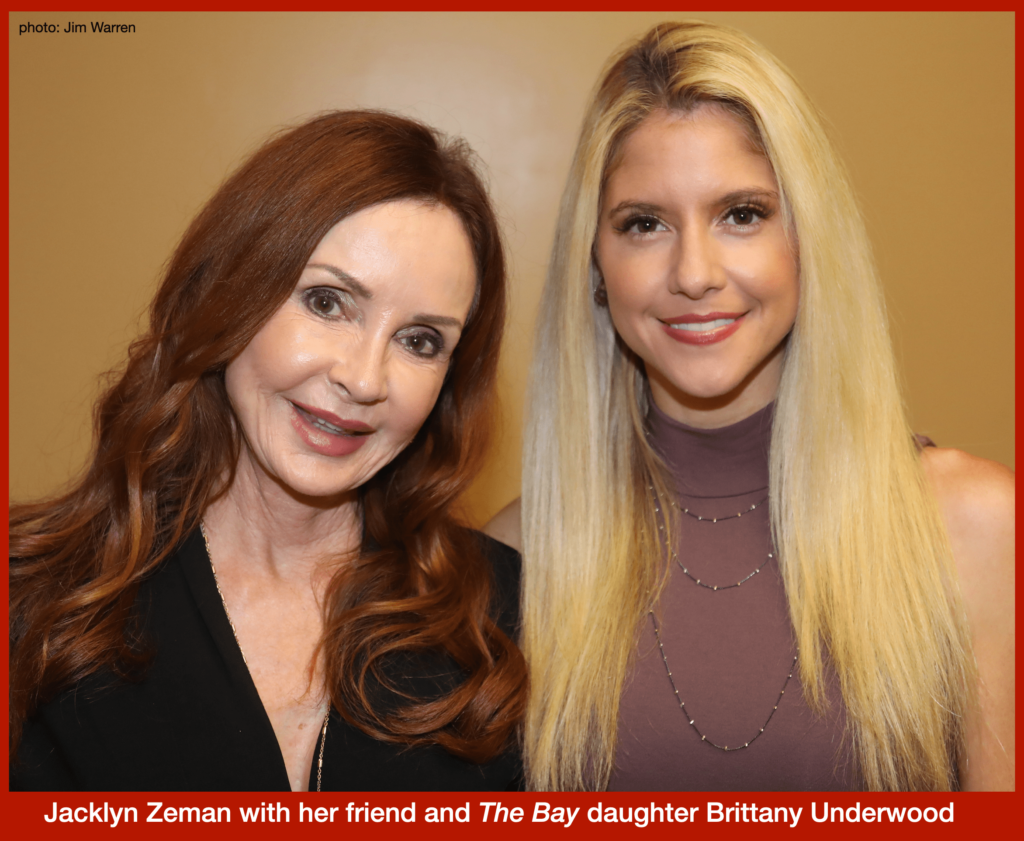 You've completed filming the newest season of The Bay, with COVID-19 guidelines in place and the cast and crew guarantied together, on a ranch outside of Los Angeles, for the entire shoot – was that difficult or did you find something positive?
Jacklyn: I am an animal lover. So I would get up early to take a long walk in the morning to meet and greet the animals on the ranch. It was my morning 'walking meditation' – great for the body, mind and soul.
You're always amazing on General Hospital – what is your best reply when fans tell you how they wish that you were on GH more?
Jacklyn: As much as I appreciate the thoughtful and kind support, I don't write the story. I just say the lines.
It's difficult being a General Hospital icon, a legend on the show, but not getting the air time you deserve?
Jacklyn: Oh let's not go there.
You do keep busy with other shows! With the travel restrictions and social distancing, how has that effected the status of last years home life style show you co-hosted – you were a natural!
Jacklyn: Thank you. So far we have not been traveling or shooting more episodes, but I'll keep you posted.
And it seems like you're having a great time on Misguided – that will be back, too?
Jacklyn: Yes, Misguided will be back for sure. Paul Gosselin has already written all the episodes for the next season. The scripts are unpredictable, compelling, dramatic and fun!
In your free time, are you been able to keep up with your new grandchild – how does that work with Covid-19 precautions?
Jacklyn: I get tested every time prior to seeing Kennedy. She brings so much joy into my life. I relish and treasure every second of our time together.
What's the last gift that you bought for yourself?
Jacklyn: Leopard sneakers since I haven't worn heels for months and I don't miss them one bit!
Your General Hospital friends and family love your homemade brownies – are they a family recipe?
Jacklyn: Thank you. They are my recipe. Dark chocolate with dark chocolate chips. Yum.
What's the last song that you can't get out of your head?
Jacklyn: You Are the Sunshine of My Life. I heard it the other day and it made me smile. My first husband, Murray the K, used to play it for me on the radio when he was on the air in NYC.
What job do you admire – that you could you never ever do?
Jacklyn: If I could sing I would perform in Broadway musicals. Oh what fun that would be!! I love the theatre.
What was your first car?
Jacklyn: When I moved from NYC to Beverly Hills to play Bobbie on General Hospital I bought a white corvette convertible with navy blue leather seats. I was so excited to have that car.
Who is the most famous person you've met?
Jacklyn: Living and working in Malibu and Hollywood for so many years has given me the opportunity to meet so many talented and famous people. It's a long list. I had the pleasure of being invited to a cocktail party where I met President Gerald Ford and First Lady Betty Ford. At that time their son Steve was getting involved in acting and had been offered a part on a soap. They were very interested in hearing about life as an actor in Daytime so we spent quite a long time in a private conversation. They had a lot of questions which I was happy to answer. They were both so kind and very down to earth.
Wow, so it was your words of encouragement that put Steven Ford on The Young and the Restless!
Jacklyn: Well, I don't know about that but it was very exciting to be with the former President and First Lady.
What song would you like to be playing over and over for the rest of your life?
Jacklyn: I could listen to anything by Andrea Boccelli and Celine Dion over and over again for the rest of my life. So, I guess if I had to choose just one, I'd say The Prayer.
What's the last good laugh you've had?
Jacklyn: At myself! For trusting and believing in someone who didn't deserve it.
Jim Warren
HollywoodHI